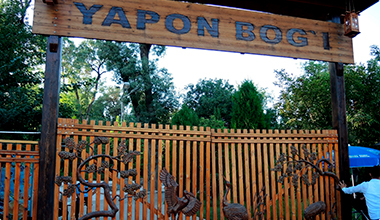 Japanese garden
Japan is considered to be one of the most exotic, ancient and spiritually rich countries in the world. A special place in Japanese culture is occupied by gardens - a separate art form that skillfully combines the philosophical and ethical concept of the universe and the natural beauty of the landscape. Guests of NEC "Uzexpocentre" have a unique opportunity to visit a real Japanese garden, created in the best traditions of the Land of the Rising Sun.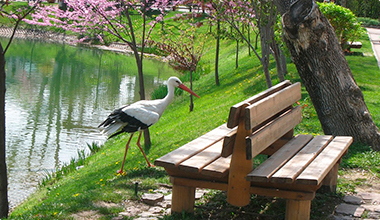 Pier by the lake
The pier near the old lake deserves special mention, which has become a favorite place for newlyweds and couples to walk. It is from here that cherry blossoms drop their petals onto the serene water surface, creating a unique atmosphere of natural charm. On the surface of the lake float, driven by the wind, water irises and hyacinths, and schools of ornamental goldfish circle in its depths. Natural harmony combined with oriental exoticism will be the perfect backdrop for a romantic walk or an unforgettable photo shoot on the eve of the wedding.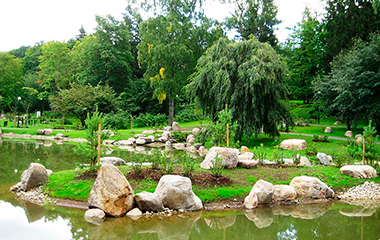 Rock garden
In the Land of the Rising Sun, there is a special art of placing stones, known as Sute-Ishi. The Japanese believe that contemplating the rock garden, following the example of Buddhist monks, one can touch the innermost secrets of the universe, know one's soul and gain wisdom. The Sekitei Rock Garden, located on the territory of the Japanese Garden, was created in accordance with the traditions of the 14th century of the Zen Buddhism era. Carefully selected and correctly placed stones form compositions full of deep philosophical meaning that will appeal to seekers of natural peace and tranquility.
Cost of services:
Adults: 30 000 soms
Сhildren (3 - 12 years old): 20 000 soms
Children under 3 years old: Free of charge
Pensioners: 10 000 soms
Persons with disabilities (I & II groups): Free of charge
Time of stay: unlimited
Payment form: any


Rent to hold events on the territory: +998712385611
Address: Amir Temur street, 107
Phone: +998 71 235-02-50
Park opening hours: from 10.00 to 22.00
Cash desk opening hours: from 10.00 to 21.00